Interested In Seeing Where APS Ranks?
What Are Software Advice FrontRunner Awards?
FrontRunner awards illustrate a software provider's commitment to creating user-friendly products that solve customer problems. Since they are based on customer satisfaction and research analysis scoring, these awards reflect vendors that push boundaries in their designated product market. APS earned awards for its Applicant Tracking System and Human Resource offerings because we proactively provide customers with solutions that make their payroll and HR processes easier.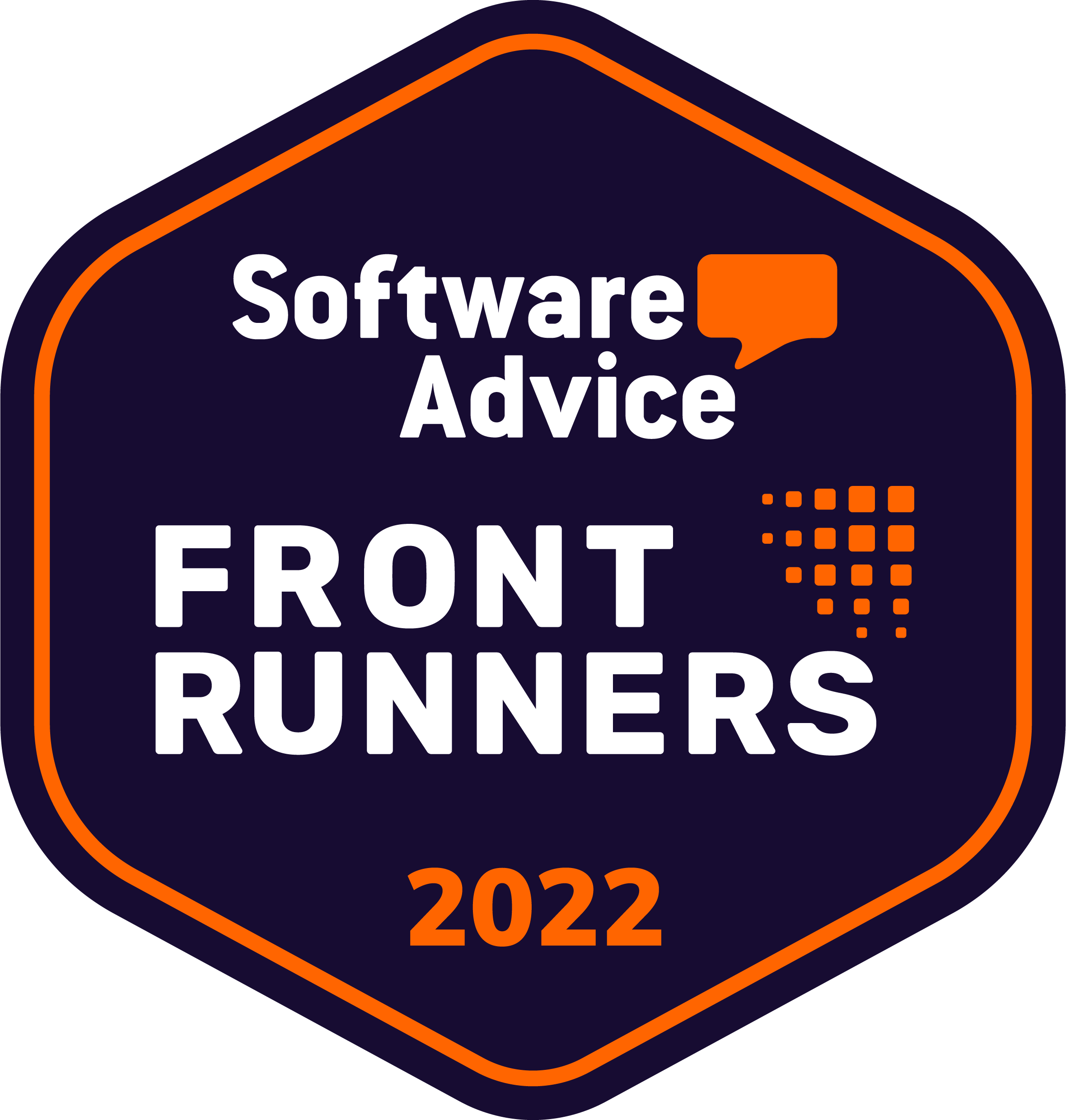 Gartner Digital Scoring Methodology
Vendors earn Gartner awards when they receive at least 20 product reviews within a given timeframe. Besides product reviews, Gartner looks for vendors whose products specifically serve the North American market, who have higher than average ratings for functionality, and are relevant to buyers across multiple industries and sectors.
GetApp Category Leader Scoring
To earn a GetApp Category Leader badge, a vendor needs to have unique reviews that explain customer satisfaction with a system's core offerings. In addition to these reviews, a software vendor must also earn ratings based on five areas that GetApp considers essential for small businesses. These areas include:
Ease of use
Value for money
Functionality
Customer support
Likelihood to recommend
These ratings, combined with reviews, a system's web presence, and multi-industry functionality, determine a company's Category Leader award. For more information, read the GetApp Category Leader Scoring Methodology.
Capterra Shortlist Award Scoring
Capterra Shortlist Awards identify top products based on a blend of user ratings and popularity: 
User Ratings:

  These are overall user ratings for products based on reviews written in the last 24 months—users rate products on a scale of 1 star (lowest) to 5 stars (highest). 

Popularity:

Considers average monthly search volume for a standardized set of keywords for each product, as well as where each vendor's website ranks on a search engine results page (SERP). This scoring helps measure overall user interest and system popularity.
Both ratings and scores are weighted to become a value between 1-50. Top earners become Capterra Shortlist Top 20 award winners. 
Understanding FrontRunner Scoring and Graphs
Software vendors like APS earn FrontRunner awards when their user reviews cover two categories: product usability and customer satisfaction. This combined methodology allows potential users to evaluate a vendor on more than just the system itself. FrontRunners like APS are an elite group within the entire software market. APS scores high for customer satisfaction and usability, providing customers with user-friendly technology and top-rated customer support.
These awards provide prospective buyers with a deeper understanding of what makes APS unique and our commitment to the customer experience. We focus on delivering functional, user-friendly products that help clients solve their everyday needs.
How Gartner Awards Can Help You Choose A Software Provider
Recognitions like Category Leader, Shortlist Top 20 Product, and FrontRunner offer prospective customers insight into what makes a software vendor unique. Finding a payroll and HR solution that solves your specific problems can be challenging. These accomplishments can help you become a more strategic software purchaser. You can tailor your buyer journey to focus on vendors that provide exceptional features like functional ATS, user-friendly HR products, etc.
Likewise, the unique customer feedback that scores these awards enables you to visualize working with each vendor. This vicarious experience eliminates buyer's remorse, so you can confidently choose a platform that supports your company for years to come.
How APS Can Help
APS has a mission to make payroll and HR easier for the customers it serves. Since 2017, we have consistently ranked on Gartner for attributes like ease-of-use, functionality, popularity, and customer satisfaction. We have earned awards across our payroll and HR core offerings, showcasing our ability to provide customers with a unified system that meets their needs. Working with APS gives you the following support and success benefits:
Lifetime Training: Receive lifetime training from our team of experts to help you master the APS system at no additional cost to you.
Dedicated Support: Leverage a four-person dedicated support team that is just a phone call, email, or support request away to answer any questions you may have.
Commitment to Success: Partner with a success coordinator who understands your business, challenges, and goals for a quicker return on your investment.
With APS, you'll gain a workforce partner committed to your success and focused on providing you personalized customer experience. To learn more about what APS can do for you, schedule a personalized demo today!
Disclaimers:
FrontRunners constitute the subjective opinions of individual end-user reviews, ratings, and data applied against a documented methodology; they neither represent the views of, nor constitute an endorsement by, Software Advice or its affiliates.
The FrontRunners badge is a trademark and service mark of Gartner, Inc. and/or its affiliates and is used herein with permission. All rights reserved. FrontRunners constitute the subjective opinions of individual end user reviews, ratings, and data applied against a documented methodology; they neither represent the views of, nor constitute an endorsement by, Software Advice or its affiliates.
See What You Can Accomplish With APS
Hear why APS' award-winning technology and services have earned us a 98% customer retention rate.