Need COVID-19 Compliance Help?
We understand. Check out our COVID-19 Resources Hub for additional resources.
Minority-Owned Businesses
The federal government has set aside $15 billion for initial PPP loans and $25 billion for second draw PPP for small businesses with fewer than ten employees. Also included are companies in low and moderate-income areas, considered to have a poverty rate of 20 percent or higher in any census tract. Loans will be funded up to $250,000.
The bill allocates other funds to organizations that help minority businesses:
$15 billion for initial and second draw PPP loans issued by community development financial institutions (CDFIs) and minority depository institutions (MDIs)
$15 billion for initial and second draw PPP loans issues by specific small depository institutions
$25 million to the Minority Business Development Agency (MBDA)
The Economic Injury Disaster Loan Program (EIDL) has also opened up, allowing small businesses in these communities that received an EIDL advance up to $10,000 in additional funding.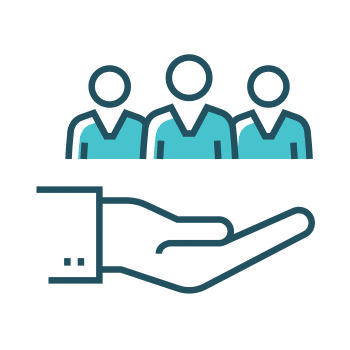 COVID-19 Relief for Nonprofits
The list of businesses eligible to receive PPP funding has expanded to include 501(c)(6) nonprofits, including housing cooperatives and destination marketing organizations (DMOs). These organizations must have 300 or fewer employees and cannot have earned more than 15 percent of their revenue from federal lobbying activity. Local broadcasters and newspapers are eligible as long as they have fewer than 500 employees.
PPP Funding for Restaurants and Hotels
Restaurants
and hotels may receive up to 3.5 times their average monthly payroll costs. According to PPP loan forgiveness regulations, these costs will be forgivable for both initial and second draw PPP loans. Restaurants are also allowed a 300 employee per-location cap. Business meals will be 100 percent tax-deductible for 2021 and 2022.
Pandemic Relief Aid for Venues
There is also $15 billion set aside expressly for live venues, museums, cultural institutions, and theatres that have remained shut down during the pandemic. The funds allocated by the SBA can be used for rent, utilities, payroll costs, and personal protective equipment (PPE).
Only organizations with revenue losses of at least 90 percent will be eligible to receive grants from the SBA during the first 14 days of implementation. The following 14 days will open up to businesses reporting at least 70 percent in revenue losses. After both 14-day periods have passed, the SBA may grant funding to all other eligible organizations.
Moving Forward With New PPP Regulations
As of December 2020, the SBA has used $525 billion of the $659 billion, or 20 percent, in PPP funding granted by Congress earlier this year. The new bill also provides $50 million to aid in PPP auditing and fraud mitigation to ensure the businesses that need funding are the ones receiving it.
Other notable modifications to the CARES Act and PPP loans include:
Clarification that any PPP loans will be considered as gross income for borrowers.
Extended the covered period for emergency EIDL grants through December 31, 2021.
Congress authorized an additional $20 billion for new Economic Injury Disaster Loans (EIDL) grants.
Allows employers who receive PPP loans to qualify still for the Employee Retention Tax Credit (ERTC) for wages not paid with forgiven PPP proceeds.
These adjustments to the CARES Act and PPP loan funding intend to clarify vague tax compliance and loan forgiveness points. Organizations can view the PPP loan forgiveness application here, but it's essential to consult with lenders and tax professionals before submitting it.
The SBA is expected to issue additional regulations for this new legislation to support small businesses by January 6, 2021.*
*On January 6, 2021, the SBA released two interim final rules: SBA-2021-0001 for first-time borrowers and SBA-2021-0002 for second-draw borrowers.
Other Payroll-Related Provisions in the COVID-19 Relief Package
The COVID-19 relief bill also included other payroll-related provisions that are essential for businesses to aware of for compliance purposes:
The refundable employee retention credit has been expanded. This credit may be applied against employer and employee portions of Social Security and Medicare taxes and the amount of federal income tax withheld.
The period for which eligible employers may claim credits for providing paid sick leave and paid family leave in accordance with the Families First Coronavirus Response Act (FFCRA) was extended to March 31, 2021, replacing the ending date of Dec. 31, 2020.
Employers that temporarily suspended collection of the employee portion of Social Security tax from September 1 to December 31, 2020, received an extension to withhold and deposit the deferred tax under the COVID-19 relief package.
The bill temporarily allows a 100% business expense deduction for meals (rather than the current 50%) as long as the expense is for food or beverages provided by a restaurant. This provision is effective for expenses incurred after December 31, 2020, and expires at the end of 2022.
How APS Can Help
Here's how APS has responded so far to the CARES Act and PPP Loan tracking management:
We have a PPP export that makes it easy for businesses to calculate their qualified PPP loan amount.
We provide CARES Act tracking and management offerings that eliminate the need for employers to track Social Security payment deferrals manually.
Our COVID-19 dashboard tile pulls together the information needed for FFCRA and CARES Act reporting.
If you are considering loan options, you can visit the Small Business Administration's website or consult with your business advisor or attorney. As we become aware of emerging policies and procedures, we update our Help Center and COVID-19 Resources Hub.
See What You Can Accomplish With APS
Hear why APS' award-winning technology and services have earned us a 98% customer retention rate.