5 Steps to Successful Conflict Resolution In the Workplace
In a recent study by CPP Inc., 85% of employees experience some type of conflict at work. Workplace conflict can be frustrating, especially if you are an HR manager dealing with the repercussions of employees' disagreements. However, as discouraging as it may be to witness, conflict is an inevitable and necessary part of growth.
How do you establish a resolution process that encourages employees to deal with conflict effectively? In this article, we'll address common workplace conflicts and 5 steps you can take to proactively manage office disagreements.
What Are The Most Common Workplace Conflicts?
Employee conflict can directly impact your company culture, productivity, and retention. According to an article by Entrepreneur, 25% of employees have seen conflict result in employee sickness or absence. Understanding the different types of work disputes can help you keep employees on your payroll. Here are a few of the most common types of workplace conflicts: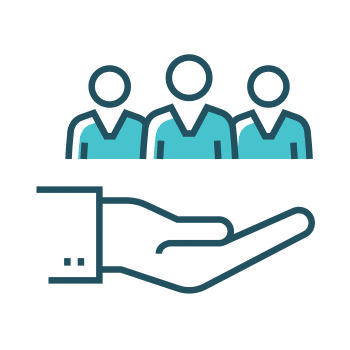 Having multiple leaders can be challenging. While one manager may be direct with tasks, another might have a more open dialogue about processes and projects.
To help overcome these differences, focus on developing a unified company culture with your managers. Work to implement your organization's core values across the board to eliminate any confusion.
People have different ways of performing tasks. While some individuals like to work collaboratively, others like to work independently to accomplish a goal. This can lead to differences of opinion among co-workers.
Instruct middle managers to evaluate their team members' different working habits. Note which team members like to communicate frequently about tasks, and which ones take a more siloed approach. Understanding employees' different styles of work can help managers handle work-style conflicts proactively.
Cultural friction can arise due to age, race, ethnicity, religion, or gender. It's normal for employees with different backgrounds and personalities to have opposing points of view.
As an HR manager, you can help employees identify areas of commonality between each other to balance out their differences. This could be something as simple as favorite foods, restaurants, activities, or hobbies.
This type of conflict arises when employees have to rely on someone else to accomplish their goals. An employee who is working on a group project may get frustrated when a co-worker isn't pulling their weight. This can create tension in the workplace.
Regardless of the project, relying on others can be challenging. To help avoid team-work conflict, have managers clarify roles and responsibilities early in the process. Then, ensure each employee is held accountable for their tasks so deadlines are met.
How to Manage Workplace Conflict in 5 Steps
Now that we've addressed the different types of workplace conflicts, let's talk about how to handle conflict itself. There are 5 steps you can take to achieve conflict resolution among your team members.
1. HOld Mock Training Sessions
To create a peaceful work environment, it's important that you train employees on conflict resolution regularly. To do this, meet with employees and managers quarterly and discuss positive ways to handle conflict.
Propose common workplace scenarios for employees and set team members on opposite sides of a fake conflict. Ask each participant to identify specific actions they'd like the other party to take to resolve the situation. If an employee struggles to come up with a solution, have other team members offer suggestions. Encourage employees to work together towards a resolution.
2. Identify Toxic Employees
The Controlling Employee
Often power-hungry, and manipulative to other workers
The Insecure Employee
Publicly shares other workers' vulnerabilities to feel more self-secure
The Employee With Personal Issues
Takes his or her emotions out on co-workers, even if the environment is a positive one
Learn How to Manage These Types of Employees
3. Listen to Employees Together
One major component of any successful conversation is proper listening skills. If your employees are disagreeing, one or both may lack the listening skills needed to successfully resolve conflicts. You can lead by example and show workers what effective listening looks like.
Encourage employees to take turns discussing the situation with you, and listen to each side of the story. Then, have each employee provide one example of how the problem could be solved. In a recent Forbes article, our CRO, Christian Valiulis discusses how you can then use these conversations to welcome conflict resolution:
Christian Valiulis
Chief Revenue Officer, APS
We have a process to welcome conflict-prone topics by using conversation capacity. This helps to break down communication barriers by allowing everyone to simply state their position, present their reasoning on the subject, and then encourage feedback and challenges to their reasoning. Through this exercise, we're able to uncover blind spots and biases that lead to poor decision-making.
Encouraging this type of welcoming environment, will guide employees towards problem-solving ideas and commit them to resolutions. They will also have the opportunity to sharpen their listening skills.
When addressing conflict with employees, create an environment that's objective. The open dialogue itself might be awkward for some employees. Having a welcoming demeanor will help employees feel more comfortable during the session.
Make it clear that you will not choose sides, and you expect employees to take action towards a resolution. Assure employees you have faith in their ability to resolve the conflict. Remind them how valuable their work contributions are and how crucial it is for them to find common ground. This approach will foster a more positive work culture so employees can perform their roles successfully.
5.
Follow-Up With Employees
Establish a time to follow-up with employees about the issue. Reach out to managers and ask them to observe the employees post-conflict. If the unresolved conflict continues, follow-up sooner.
When meeting with staff, remind them that the success of their entire team depends on their ability to resolve the issue. If the problem persists, disciplinary action will have to be taken to ensure the safety and comfort of their co-workers. However, if they fix the problem, praise them for their success and continue to train their team on workplace values.
A Cohesive Culture In The Making
Conflict resolution isn't always easy, but when you follow these 5 steps it is manageable. Find out what managers are doing to make their team environments more cohesive. Train teams on conflict resolution and company values. Identify the ways leaders are listening to employee concerns and offer feedback.
A time will come when you will have to help address employee conflict. It will be easier to handle if you have an established process, and protocols in place. With a workforce trained on company values and cultural cohesiveness, your culture will continue to thrive.
About APS
APS has a mission to make payroll and HR easier for the clients we serve. APS has been awarded Best Places To Work by Comparably and ranked in the top 15% of companies for Overall Culture. With a focus on workplace efficiency, we can help you streamline your processes for a happier, more cohesive company culture.
See What You Can Accomplish With APS
Hear why APS' award-winning technology and services have earned us a 98% customer retention rate.