Awesome content, even better software. Just think what our technology could do for you.
How Much Should An Applicant Tracking Solution Cost?
Let's face it, you have a lot on your plate. Not only do you have to pay your employees, track their time, and administer benefits, you also have to get them in the door. Applicant tracking solutions can help you simplify and automate your hiring process, but at what cost? Is it something your company can afford?
We previously discussed how much core HR, payroll, and time tracking solutions should cost while offering some valuable information and resources to help in your research process. In our final article discussing solutions pricing, we are talking about how much an applicant tracking solution should cost.
What an Applicant Tracking Solution Should Offer
Applicant tracking solutions should streamline your hiring process, so it's easier to recruit, track, and onboard the right talent for your company. Look for the following features and benefits in an applicant tracking solution:
Provides tools like careers pages and job posting distribution through top job boards.
Simplifies the application process with options like mobile-friendly applications.
Allows employers to track the progress of applicants for job openings from start to finish.
Tracks where applicants are in the recruiting process so employers don't overlook important steps.
Gives you the ability to assess candidates quickly using pre-screening questions and benchmark assessments.
Employers can schedule interviews and track the interview process.
Use interview guides and scorecards to quickly identify top candidates.
Run background checks on potential hires to help control turnover.
Simplifies the onboarding process by allowing employees to fill out paperwork online and even electronically sign new hire documents.
Pay-Per-Recruiter
You pay a flat fee each month based on how many recruiters or hiring managers are using the system. There could be a setup fee involved during implementation.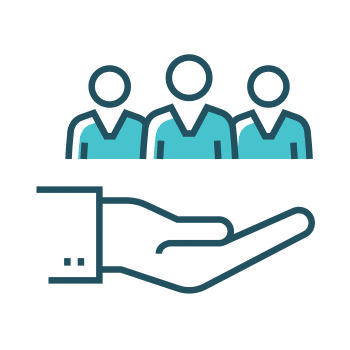 Pay-Per-Employee
You pay based on the size of your organization. You can have as many users as you want.
Pay-Per-Job Opening/Applicant
You pay based on how many jobs open at a time or how many total applicants/resumes you have in the system. There could be a one-time setup fee involved.
Other Models
You may pay a one-time license fee or the applicant tracking system may come free with some HR solutions.
Consider a solution unified with other processes like payroll and HR to eliminate duplicate data entry or errors during onboarding for a maximum return on investment.
Determine Your Needs
It's important to determine what your current business needs are, as this will determine what you'll pay for an applicant tracking solution. Today's solutions are increasingly web-based and many of them are either integrated with HCM platforms or offered within an HCM platform. It's important to determine your needs when evaluating options:
Are you looking for a solution that will foster your current hiring process or are you look to establish a centralized hiring process altogether?
Are you currently using a payroll or HR solution that will need to integrate with your applicant tracking system or does your current provider offer a solution?
Have you thought about ease of use, adoption, and efficiency to ensure maximum ROI?
Are you currently experiencing high turnover and looking to reduce rehire and retraining costs?
Check to see if the solutions you're evaluating offer social recruiting and mobile-friendly job applications. More and more applicants are using social media to search for job openings and filling out job applications on their smartphones.
The True Cost of Outsourcing
Choosing an applicant tracking solution doesn't have to be complicated or time-consuming. Outsourcing and automating your hiring process means a more efficient hiring process that saves you time and results in happier, confident employees. The key is to have the right resources and look at what problems you're trying to solve for your company. With more and more job candidates taking to social media in their searches and using their smartphones to apply, you have to make sure you're using the right solution to attract the right talent. The true cost of outsourcing your applicant tracking processes and tasks could actually benefit you in other areas of your business:
Efficiency: If you use a solution on the same platform as your payroll, HR, and other processes, you'll spend less time on data entry for a more efficient workday.
Employee Morale: With a solid hiring and onboarding process in place, employees will be happier and more confident from day one.
Technology Gains: Applicant tracking solutions that are part of an HCM system allow you to take advantage of other technology for further streamlining of workflows.
Turnover: When you start hiring the right people more consistently, turnover rates will decrease, saving you money on rehiring and retraining.
Check to see if the solutions you're evaluating offer social recruiting and mobile-friendly job applications. More and more applicants are using social media to search for job openings and filling out job applications on their smartphones.
Ready to Pull the Trigger on an Applicant Tracking Solution?
The best way to answer this question is by asking another one: what does your hiring process look like today? If you're looking to centralize your hiring process, the next step is to gather the right resources. A buyer's guide allows you to hone in on what type of pricing structure and solution best fits your company's needs. Vendor review sites like G2 Crowd, TrustRadius, Software Advice, and Capterra allow you to get the real goods from actual users before you even talk to a provider. Finally, and we can't stress this enough, demos are vital to choosing the right solution for your organization.
Receive lifetime training from our team of experts to help you master the APS system at no additional cost to you.
Your dedicated support team is just a phone call, email, or support request away to answer any questions you may have.
Work with APS experts who understand your business, your challenges, and your goals for a quicker return on your investment.
Recent Posts
Check out more great articles from the APS Blog covering HR, payroll, and everything in between.
We've put together a list of the biggest HR challenges in the hospitality industry to help HRM professionals navigate them during these unprecedented times.